A smart way to feed your pet
Recent year, many people brought pets into their homes. Especially when you work from home most of the time, an extra member of the family can serve as good company. This is even more understandable when you realize that pet owners do not only experience less stress, but also live longer!
Dogs do not have a sense of time like humans do. Although, they do rely on routines and other signals, like a fixed walking time or an indication of mealtime. Since these home working days will probably decrease in the near future, we should not forget the animals who are at home. Nedis® offers the Smart Pet Food Dispenser, which gives the opportunity to feed your pets at any chosen time, even when you are not with them. With this smart food dispenser you can program exactly at what time a certain amount of food is given (in portions of approximately 10 ml). You can manually feed your pets remotely with the app on your smartphone. Your cat or dog will always be fed on time, even when you come home late. No need to ask your neighbours to feed your pets when you are away for the weekend.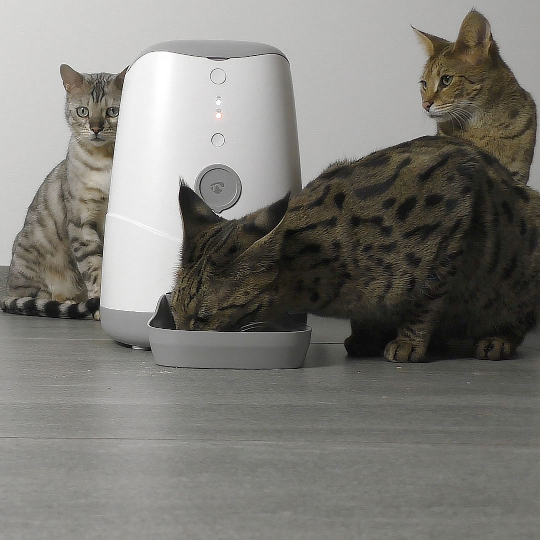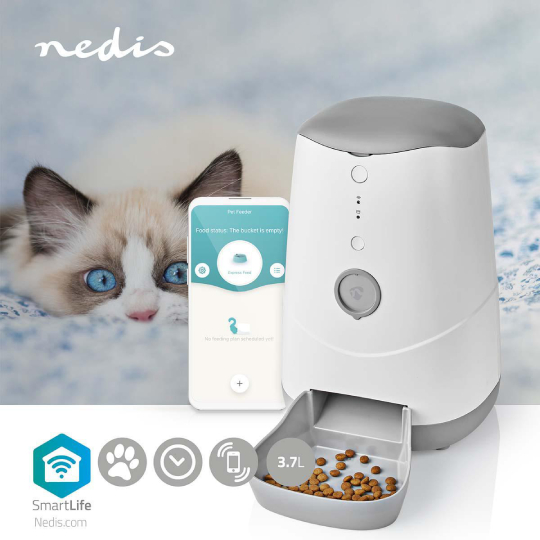 Remotely feed your pets the preferred amount on set times
This automatic feeder has a removable tray in which up to 3.7 liters of dry food can be stored. A sensor informs you through an indication light and a push notification on your smartphone when the bin is empty, so you know to clean and refill it. The food dispenser is powered using the 5V 1A USB charger and a USB to micro-USB cable. To make sure your pets get their food even during the unlikely event of a power outage, you can connect a power bank for back-up. The feeding schedule is stored in the product, so even without Wi-Fi connection, your pets are fed at the set times.
SmartLife Indoor Camera
To make your home even more pet-friendly, you can check out the SmartLife Indoor Camera. This easy to use smart indoor IP camera can monitor your pets or other loved ones and record any sound or motion. Its friendly design makes this a welcome addition in anyone's room. Discover the entire Nedis® SmartLife assortment with a wide and ever-expanding range of products, such as light bulbs, switches, sockets, sensors, and cameras - that can all be controlled through an easy-to-use and intuitive app. Whether you are looking for a single smart bulb or socket, or you want to automate your entire house, smart technology has never been this easy with Nedis® SmartLife.